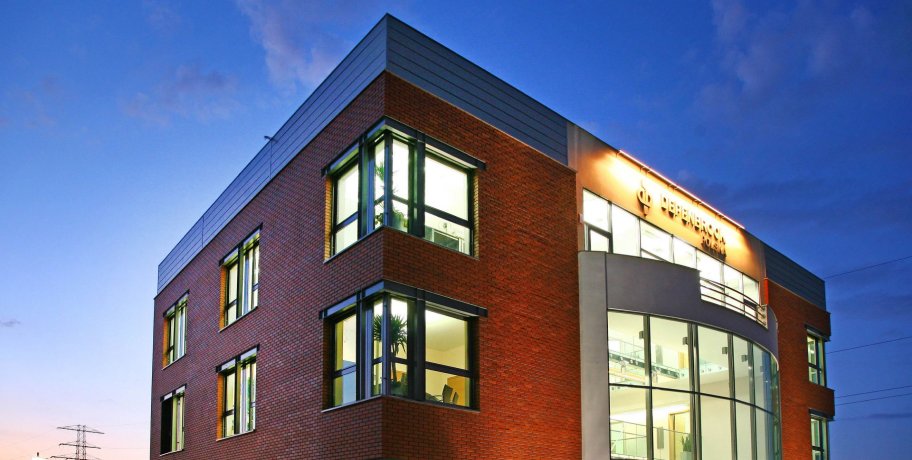 About Depenbrock Polska
We are a general contractor of industrial facilities together with surrounding infrastructure. The company manages the entire investment process, from conceptual design through project execution and construction up to the very completion..
Due to precise targeting, early planning and close cooperation with all teams involved in project implementation we are able to reduce general costs significantly.
Thanks to careful planning, revising shedule and choosing optimal operation method we are able to guarantee fast implementation.
The high quality of our services is achieved through the use of well-proven solutions and the selection of reliable subcontractors who, just as us, value reliability, thoroughness and flexibility.
Awards
Nieustannie projektujemy nasz rozwój, a konsekwentna realizacja założonych celów sprawiają, że jesteśmy cenioną firmą budowlaną w branży. Pracujemy z najlepszymi. Zdobyte nagrody i wyróżnienia to dla nas zarówno dowód uznania, jak i zaszczyt. To potwierdzenie tego, że każdy wysiłek wkładany w wykonywane przez nas projekty oznacza najwyższą jakość.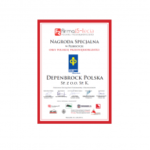 Orły Polskiej Przedsiębiorczości
Nagroda Specjalna dla Depenbrock Polska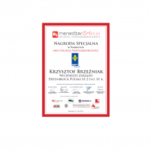 Orły Polskiej Przedsiębiorczości
Nagroda Specjalna dla Krzysztofa Brzeźniaka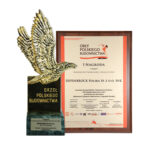 Orły Polskiego Budownictwa
I nagroda w kategorii "Budownictwo Przemysłowe i Specjalistyczne"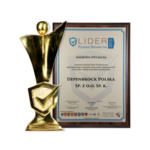 Lider Polskiego Budownictwa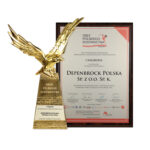 Orły Polskiego Budownictwa
I nagroda w kategorii "Generalny Wykonawca"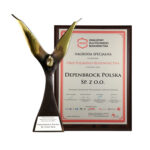 Orły Polskiego Budownictwa
Nagroda specjalna w kategorii "Firma"

Mission
Our mission is to respond to our Clients' needs and to propose the best solutions so that every investment and every project bring optimal benefits. The most valuable asset of Depenbrock company is our team, formed by people who, in their work, are always guided by their professionalism, responsibility and perseverance. We are looking forward to doing business with you. Allow us to assure you that we will successfully cope with every request you might have.
Our motto: "Always ahead" obliges!
History
We originate from a reputable enterprise, Depenbrock Bau Group, with headquarters in Stemwede and local offices across the whole Germany. Depenbrock Bau is a family business. Today, the company is led by the fourth generation, continuing the tradition of 85 years. This kind of management means a rich experience, accumulated throughout many years of business activity, stable structures and a constant development, which – combined altogether – ensure to our employees and Clients the sense of security and confidence that they relied on a competent and prospective company. The beginning of the company's history dates back to 1928, when Karl Depenbrock founded a transport agency which fixed assets consisted of one horse and one wagon. Today, we employ 820 persons within ten offices across Germany and Poland. We operate in all sectors of construction industry: from realization of underground, hydrotechnical and road facilities, through construction of cubature turn-key buildings, to buildings' management. Depenbrock Bau designs, constructs and manages, deriving from dozens of years of experience and eagerly implementing various innovative solutions.
Karl Depenbrock founds a transport agency.
Change of name to Tiefbauunternehmen Karl Depenbrock & Sohn
according to the business activity profile (within the scope of underground construction).
Karl-Heinrich Depenbrock appointed as a member of the management board.
Extension of the business activity scope, now including engineering and industry construction and turn-key realizations.
Taking over Heinrich Breckmann & Sohn w Bohmte, a company operating in the housing industry. Business activity oriented towards a general contracting and projects management.
Projektbau Depenbrock GmbH & Co. KG company in Langenhagen is founded.
Bielefeld local office opens.
A new office building owned by Projektbau Depenbrock GmbH & Co. KG company in Hanover opens.
A local office of Projektbau Depenbrock GmbH & Co. KG company in Hamburg Channel-Tower opens.
Depebrock Bau celebrates the 75th founding anniversary with its clients and contractors.
Jörn Henrik Depenbrock enters the company.
Depenbrock Poland local office in Poznań opens.
Depenbrock Systembau GmbH & Co. KG company in Bielefeld is founded.
Transfer of Münster office to Duisburg.
Operating performance
Who adequately reacts to the market's challenges and to its Clients' needs can count on a continuous and stable development of the company, since we all know that a proper end crowns all. Depenbrock Poland owes its constant growth to a long-term planning, solid strategies and an enormous perseverance in realizing pre-defined goals. The results from the last years clearly show that our attitude ensures the best possible outcome. Numbers convince us that we should stick to this path.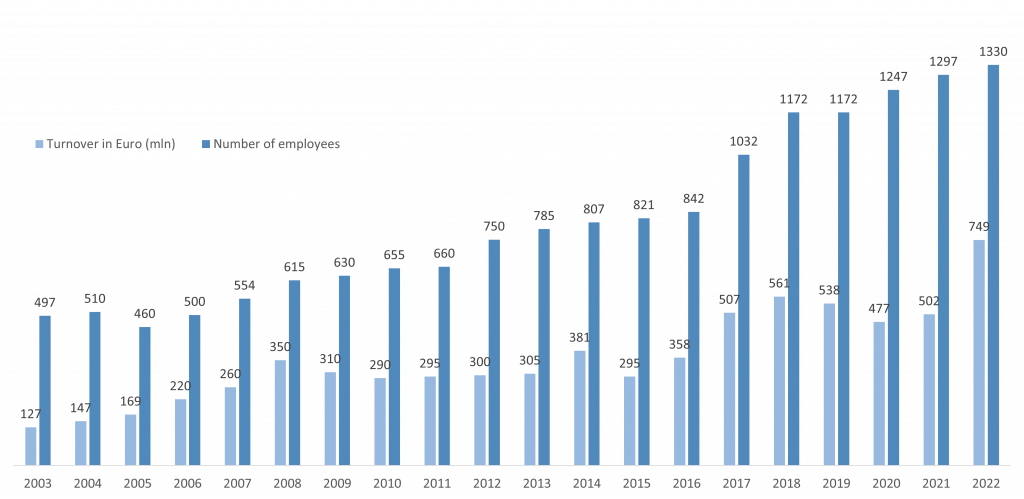 Branches
Oddział w Polsce
Depenbrock Polska Sp. z o.o. Sp. k.
Ul. Platynowa 5
62-052 Komorniki/PL
Telefon +48 61 65 65 660
Fax +48 61 65 65 661
info@depenbrock.pl
Centrala w Stemwede
Depenbrock Bau GmbH & Co. KG
Blumenhorst 6
32351 Stemwede
Telefon (05474) 68 0
Faks (05474) 68 17 5
info@depenbrock.de
Oddział we Frankfurcie nad Menem (lotnisko)
Depenbrock Bau GmbH & Co. KG
Cargo City Süd Geb. 556 B
60549 Frankfurt
Tel.: (0 69) 69 76 966- 0
Fax.:  (0 69) 69 76 966-20
e-mail: info@depenbrock.de
Oddział w Speyer
Depenbrock Gebäudemanagement GmbH & Co. KG
Ludwigstraße 48
67346 Speyer
Fax.: (062 32) 850 98-20
Tel.: (062 32) 850 98-0
info@depenbrock.de
Oddział w Hanowerze
Projektbau Depenbrock GmbH & Co. KG
Desbrocksheidering 50
30419 Hannover
Telefon (0511) 74 02 99  0
Faks (0511) 74 02 99 50
info@projektbau.depenbrock.de
Oddział w Hamburgu
Projektbau Depenbrock GmbH & Co. KG und
Depenbrock Bau GmbH & Co. KG
Schellerdamm 16
21079 Hamburg
Telefon (040) 76 79 66 0
Faks (040) 76 79 66 20
Oddział w Bielefeldzie
Depenbrock Systembau GmbH & Co. KG und
Depenbrock Gebäudemanagement GmbH & Co. KG
Stieghorster Straße 66
33605 Bielefeld
Telefon (0521) 98 83 44 0
Faks (0521) 98 83 44 99
Oddział w Duisburgu
Depenbrock Systembau GmbH & Co. KG
ehemals Werhahnspeicher
Philosophenweg 23
47051 Duisburg
Telefon (0203) 44 99 85 0
Fax (0203) 44 99 85 29
Oddział w Nürnberg
Depenbrock Gebäudemanagement GmbH & Co. KG
Muggenhofer Straße 136
90429 Nürnberg
Tel.: (09 11) 3237 58-0
Fax: (09 11) 3237 58-20
info@depenbrock.de
Hecker Bau w Hatten
Hecker Bau GmbH & Co. KG
Hatter Landstraße 27
26209 Hatten - Tweelbäke Ost
Tel.: (+49) 4481-9288-0
Fax: (+49) 4481-9288-44
info@hecker-bau.de